Date/Time
Date(s) - 31/10/2013
11:59 pm
Location
Athena Cinema
Category(ies) No Categories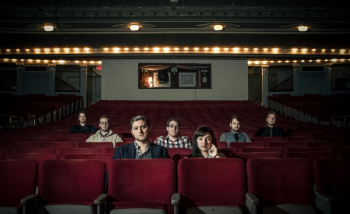 The Ridges Present: Nosferatu, A Symphony of Horror
Director: F.W. Murnau
Writer(s): Henrik Galeen
Cast: Max Schreck, Greta Schröder, Ruth Landshoff
Running Time: The Athena will show a speical 35 minute cut of the film, as provided by The Ridges.
Rating: Unrated
The Ridges Present: Nosferatu, A Symphony of Horror is a limited engagement live performance from the Athens, OH, orchestral folk rock collective The Ridges. Performing their original folk-inspired and string-based score to a projection of the 1922 silent classic, The Ridges bring new life to the German Expressionist adaptation of Bram Stoker's Dracula that set the standard for horror movies.
The Ridges are an orchestral folk rock collective from the Appalachian college town of Athens, Ohio. Rooted in the collaboration of Victor Rasgaitis (guitar, vocals) and Talor Smith (cello, vocals), the duo is supported live by a rotating cast of musicians adding classical and folk rock instrumentation ranging from cellos, violas, violins, upright bass, and horns to banjo, mandolin, accordion, and drums. By augmenting their multi-layered songwriting and aggressive, high-energy performances with haunted, all-acoustic instrumentation, The Ridges craft lush indie rock compositions that embody a theme of dark romanticism. Captured on their eponymous 2011 EP, which was recorded in the dead of winter at the abandoned Athens asylum that bears their same name, the band's distinct sound are giving way to their full-length debut.
Tickets are $5 and are available starting Friday, October 25 at the box office.