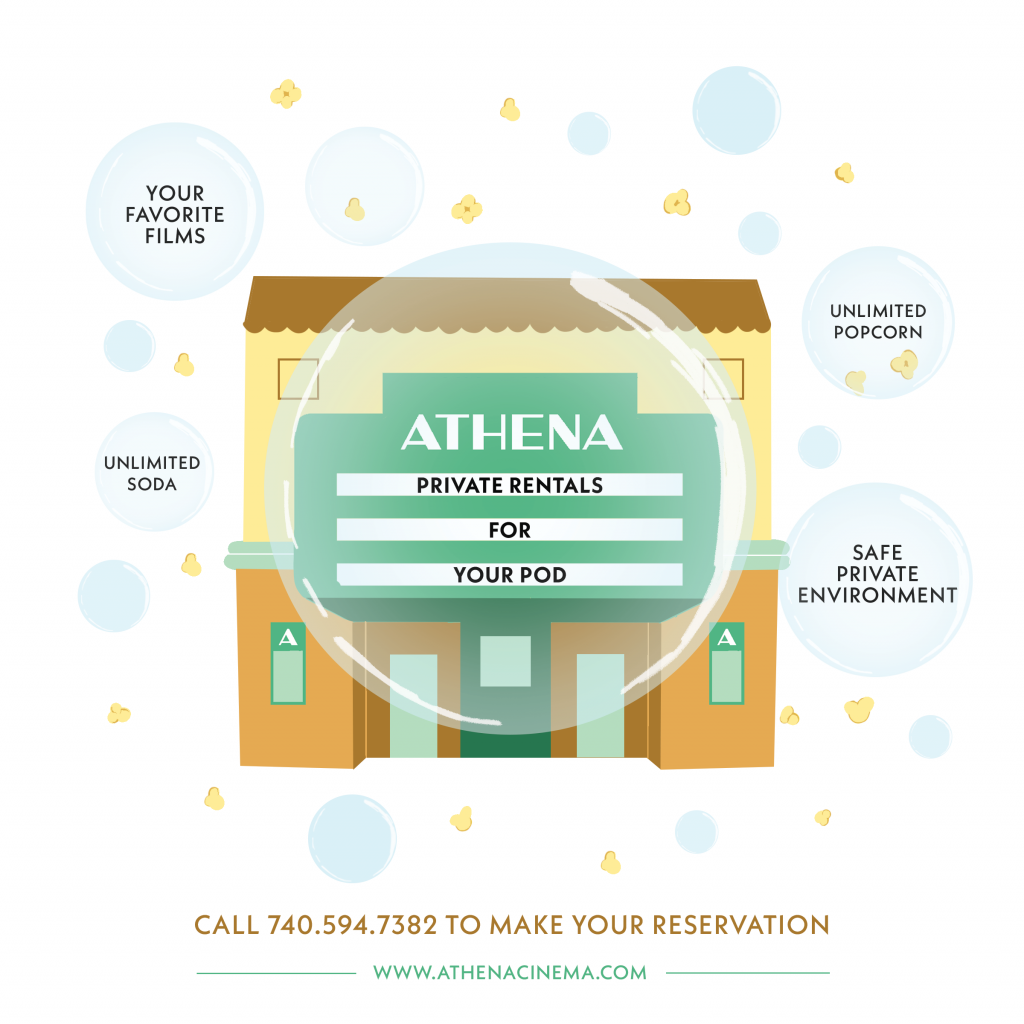 The Athena is now offering private rentals for your pod! Want an experience that offers you safety and fun? We invite you to get out of your house, enjoy beautiful Uptown Athens during the holidays and create memories with your loved ones this holiday season.
Our rentals offer the magic and nostalgia of a big screen experience and support the Athena during this challenging time. They can make great gifts for the holidays as well!
We have taken every precaution to ensure a great time where safety is the top priority. In order to adhere to strict safety guidelines, we have very limited availability right now. Act quick if you would like to reserve a slot.
All rentals include bottomless concessions, featuring: Shagbark Seed & Mill Popcorn, and assortment of soda pop and theater candy boxes. Hot chocolate and coffee are available upon request.
Check below for a list of available dates and times to rent.
What we ask of you:
Everyone MUST wear masks. The only time masks may be removed is while you are in your seat, consuming food or drink in your theater.
Everyone MUST review our "know before you go" guidelines that will be sent out at the time of your reservation. Markers and signage will help remind you of our guidelines during your visit as well.
Cancellations and postponements due to pandemic-related reasons will be accommodated. If you or any member of your party experiences symptoms of illness, tests positive for COVID-19, or comes in contact with someone who has tested positive, please let us know as soon as possible so we can cancel or reschedule your rental.
The Athena Cinema cannot allow entry to the building for those who are experiencing symptoms of illness or have been exposed to someone who has tested positive for COVID-19.
RESERVATIONS AVAILABLE:
◦   Thursday, January 28th at 6:00 P.M.   ◦
◦   Thursday, January 28th at 7:00 P.M.   ◦
◦   

Friday, January 29th at 6:30 P.M.

   ◦
◦   Friday, January 29th at 7:30 P.M.   ◦
◦   

Saturday, January 30th at 4:00 P.M.

  ◦
◦   Saturday, January 30th at 5:00 P.M.   ◦
◦   

Sunday, January 31st at 2:00 P.M.

   ◦
◦   

Sunday, January 31st at 3:00 P.M.

   ◦
February availability to be announced late January.
Complete the form below to submit your rental request!
For buying a rental credit as a gift for someone else, email athenacinema@ohio.edu with details. You can also call our office at 740-594-7382 between 9:00 A.M. and 5:00 P.M. on weekdays to make requests for rentals, however our staff is limited and not always in the office. Requests must be made at least 72 hours in advance.
We look forward to your long-awaited return to the movies!
FAQ
How many family members or friends can attend?
Your rental is good for up to 15 persons who are sheltered in place together, have not recently tested positive for the coronavirus, not ordered to isolate or quarantine by the health department and are not currently experiencing symptoms of illness.
How do I schedule a private rental?
You can schedule by calling 740-594-7382, Mon-Fri from 9 am-5pm. We have very limited availability for the month of December and private rentals are available first-come, first-serve. All reservations must be made 72 hours in advance.
Do we have to wear masks?
Yes, everyone who enters the theater is required to wear a mask during their visit.
Will you be selling concessions?
Yes, your rental fee includes bottomless concessions featuring: Shagbark Seed & Mill Popcorn, an assortment of soda pop and candy. Hot chocolate and coffee available upon request. Outside food is not permitted.
Do members receive a discount?
Yes, Athena Cinema members receive a $50 discount on any rental! Just make sure to mention that you are a member when making your reservation.
What are you doing to make private rentals safe?
We are taking extensive precautions to ensure that this is a safe and fun experience for our guests. Some of these steps include:
All Athena staff will wear masks and remain distanced from patrons. They will also wear gloves when interacting with patrons and handling concessions. No Athena employee will report to work if they are experiencing any symptoms of illness or have recently tested positive for COVID-19.
All theaters and shared spaces will be thoroughly sanitized between each rental, including floors, surfaces, and seats. Your group will be the only group in the theater you reserve for the entire day.
Plexiglass shields have been installed at our counter, our HVAC system has been equipped with new, state-recommended HEPA filters, water fountains are outfitted with more sanitary bottle-filling nozzles, and hand sanitizer dispensers are positioned throughout the lobby.
Rest assured that the Athena will adhere to the standards and recommendations of the state government, local health department, and Ohio University concerning virus-spread prevention to make sure all our visitors enjoy a safe and welcoming experience.
Please Note:
Although your group will have exclusive access to the specific theater reserved for the date of your rental, there may be others in the building. We ask all guests to avoid congregating in the lobby, restrooms or hallways and require everyone to wear masks for the duration of their visit.

What films can we watch?
Films may be procured by theater staff and cost will be added to rental. Some titles are available for no additional cost. List of seasonal titles available upon request.
What if I need to cancel?
Refunds or postponement due to COVID-related reasons will be honored. If you, or anyone in your party are exhibiting symptoms, you must cancel.
How do we pay for the rental?
We encourage cashless transactions through pay ahead options online or by phone.
When should we arrive for our screening?
Entrance doors will be unlocked and the lobby will be ready for your arrival 15 minutes before your screening. Once your party has arrived and entered your theater, the film will start and the entrance doors will be locked again.
Can I purchase a rental as a gift?
Absolutely! The recipient will have 30 days from the date of purchase to schedule the rental.
How much will a rental cost and what does it cover?
Rentals include private access to one of our theaters for the entire duration of a film of your choosing, up to two and a half hours. Rentals are priced at a flat rate of $250 and include bottomless concessions. Athena members are eligible for a $50 discount. Depending on your movie choice, an additional fee may be added for the Athena to acquire the film for your party.
Additional questions or requests? Contact us by emailing athenacinema@ohio.edu.