Watch Trailer Director: Raven Jackson
Cast: Charlene McClure, Moses Ingram, Chris Chalk

The debut film from writer/director Raven Jackson, All Dirt Roads Taste of Salt is a poetic journey through the life of Mack, a black woman living in modern-day rural Mississippi. The sparsely-dialogued plot follows Mack throughout several portions of her life, from childhood to old age, as she experiences love, loss, fear, joy…all the myriad sentiments that make a life a Life.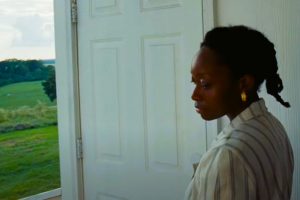 Jackson's choice to utilize multiple actors for several characters as they age in the film really helps to elevate the sense of time passing as the story moves through the decades. Also, the movie was filmed on location in rural southern towns that have changed very little over the course of the last half-a-century, and this gives the film a very strong "sense of place".
All Dirt Roads is a masterful debut and masterpiece of lyricality:  not only a moving portrayal of a life, but also a moving portrait of life in the Deep South.

Share this Film