At the Athena Cinema, we strive to make moviegoing a unique experience. We are a nonprofit cultural institution, dedicated
 to creating a wide array of film-going experiences, and one of the most important kinds of films we show are educational documentaries and films. Every year we host multiple environmental series and open up scientific discussion in our "Science on Screen" panels. We hope our audience walks away from these experiences having gained knowledge about the world around them, and come back hungry for more!
The Athena is committed to offering "Film Plus" Programming. This includes educational screening events of documentary films. These events often welcome guest speakers, panel discussions and Q&A's with active audience participation. Whenever possible we offer free or low cost admission to these events.
Spring Sustainability Series
This spring, the Athena will be showing 6 films that are centered around the discussion of sustainability and the effects of global climate change. Join us on January 27th for THIS CHANGES EVERYTHING, February 10th for BAG IT, February 24th for BIKES VS CARS, March 9th for INHABIT, March 30th for SEEDS OF TIME, and April 13th for ANGEL AZUL. All screenings begin at 7:00pm and admission is free.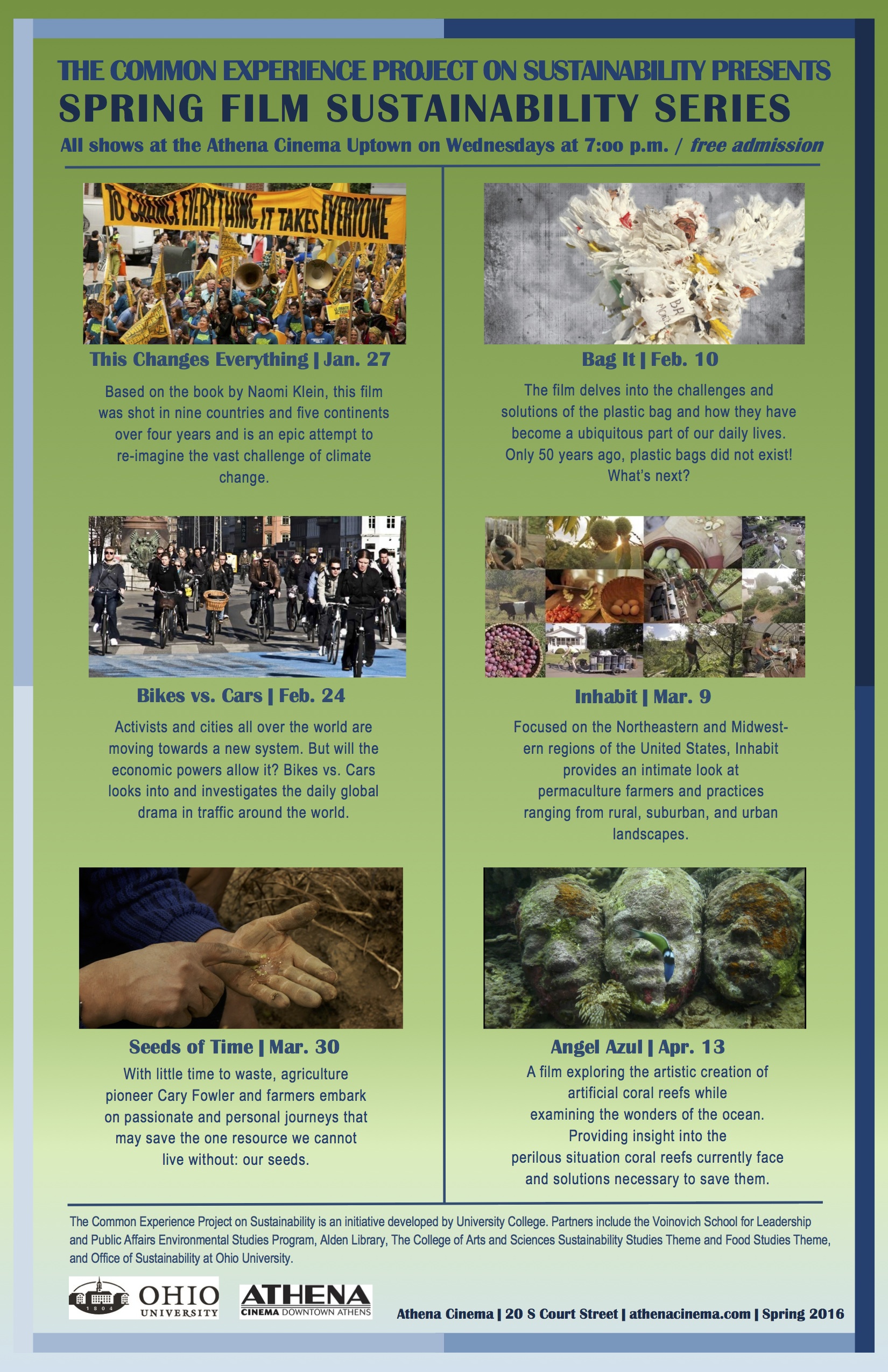 Fall Sustainability Series
This fall, we're showing five full-length films and two shorts that highlight the importance of environmentally-friendly living around the world. Join us on Oct. 7 for a special appearance by filmmaker Laura Kissel after COTTON ROAD, and Oct. 21 for producer Sean Peoples and musician Jack Wright after BROKEN LANDSCAPES and SLUDGE. All shows are free and play on Wednesdays at 7:00.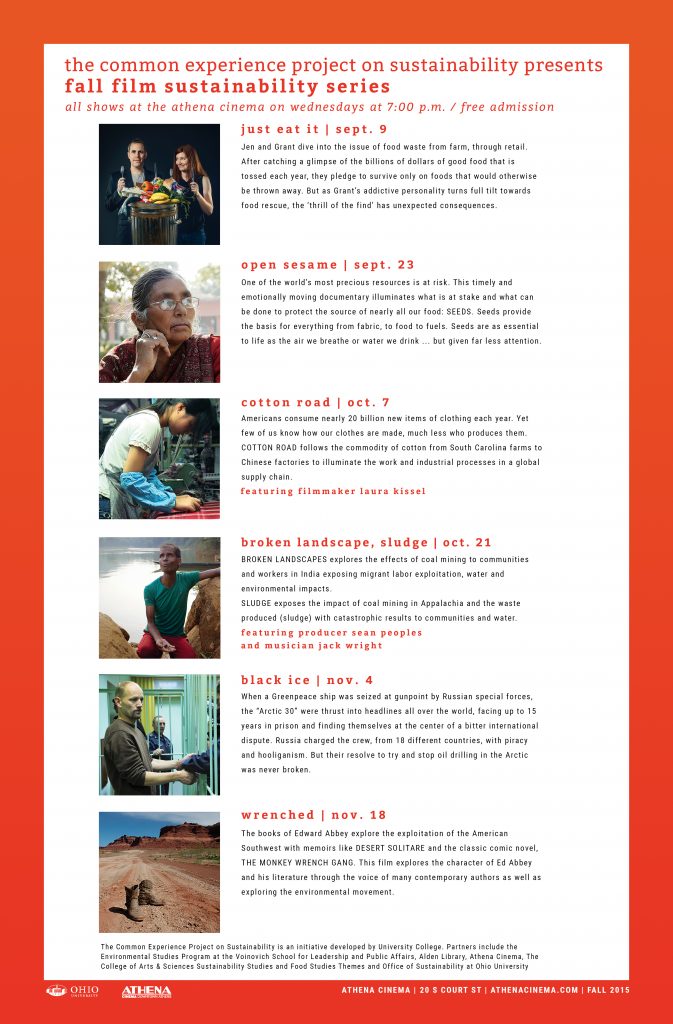 We're also putting on a special film series with The College of Arts & Sciences Knowing the Future Theme. We're showing CHILDREN OF MEN, THE IMITATION GAME, FANTASTIC VOYAGE and CONTACT, for free! All shows are on Tuesdays at 7:00.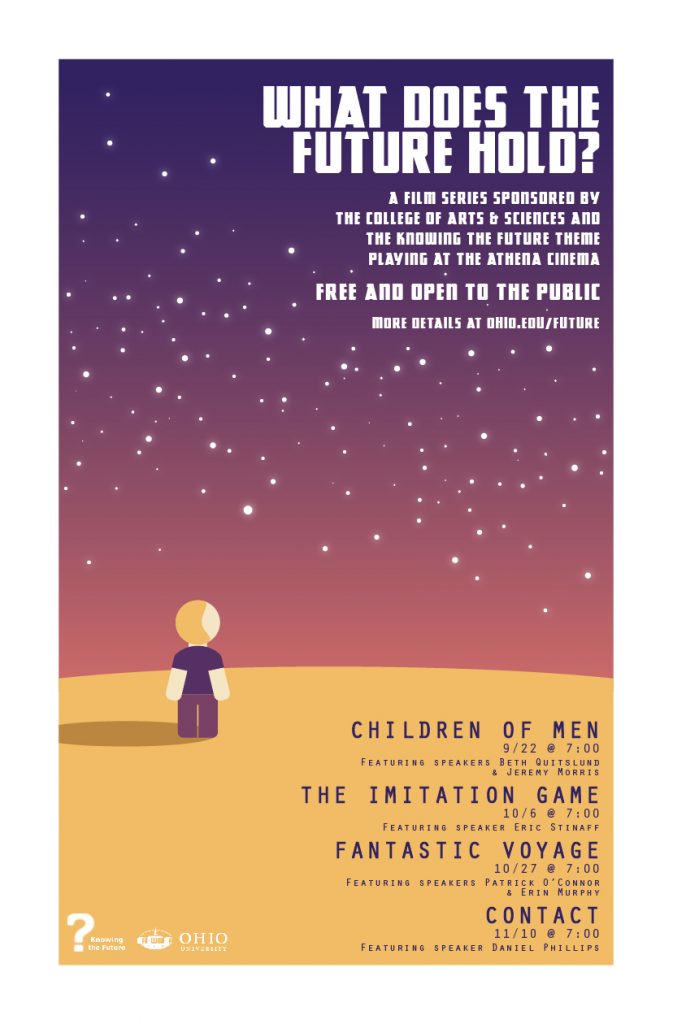 Past Events:
Spring Sustainability Series
Our spring sustainability series offers a look at sustainable living across the globe. From Antarctica to the Amazon, these six documentaries take a critical look at our environment. In partnership with the Common Experience Project on Sustainability, and sponsored by University College, Alden Library, Environmental Studies, and Sustainability Theme: Arts and Sciences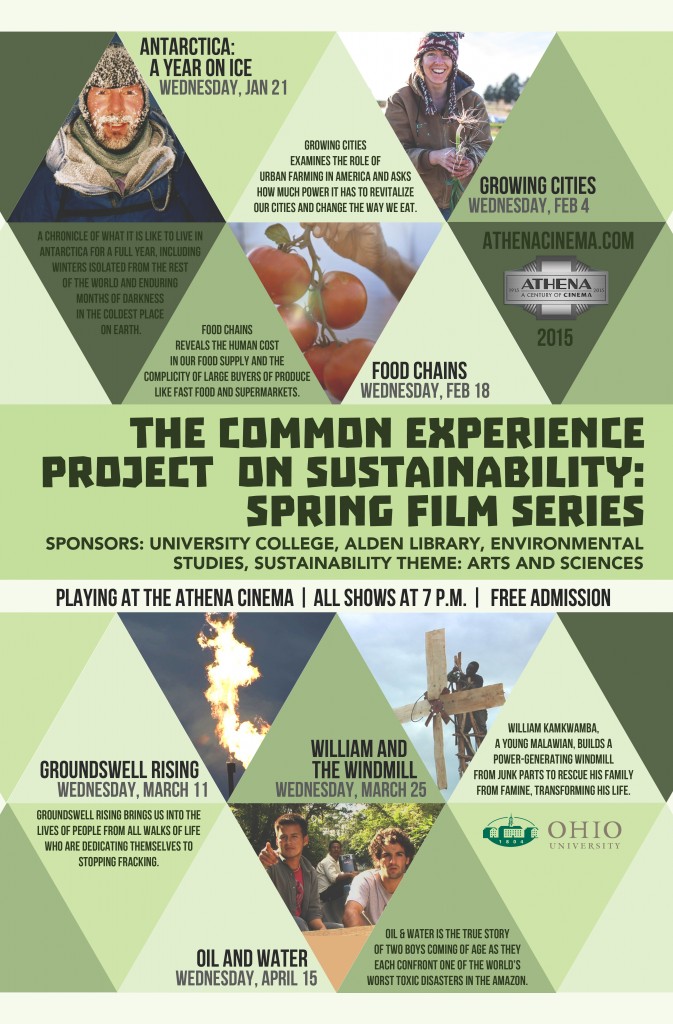 Transcultural Encounters and Border Crossings
The Transcultural Encounters and Border Crossings series showcased relationships that crossed cultures, boundaries and distance. Films were introduced by professors Katarzyna Marciniak and Michael Gillespie. Free admission was sponsored by The College of Arts and Sciences, Making and Breaking the Law Theme, and the Wealth and Poverty Theme.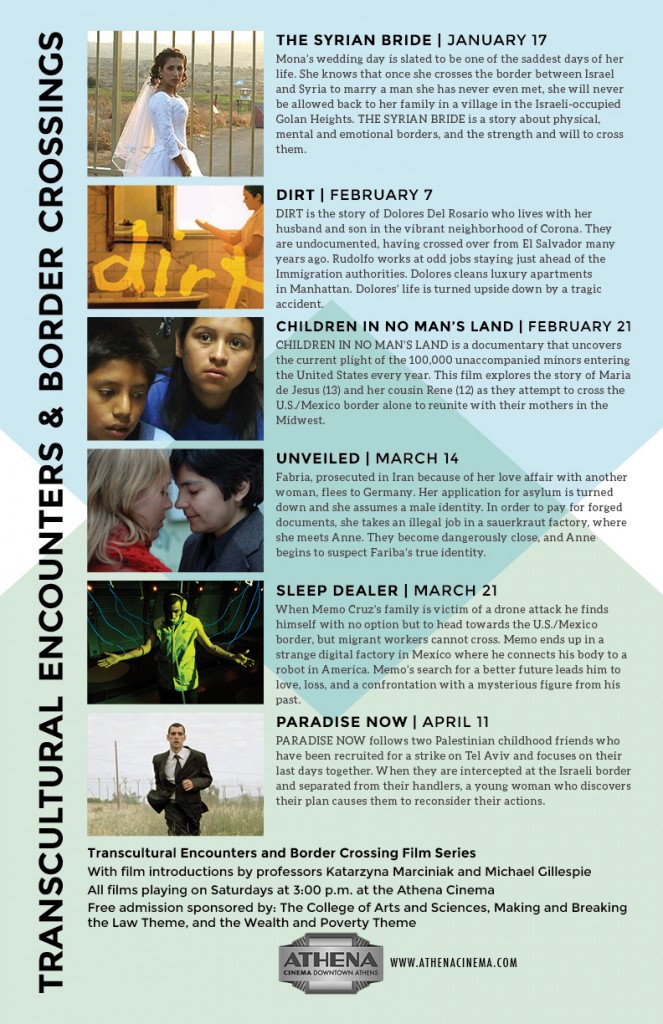 Fed Up
Shown in October 2014, the screenings of FED UP at the Athena Cinema were the result of a partnership between the Division of Food and Nutrition Science, the College of Arts and Sciences Food Studies Curricular Theme Initiative and Ohio University Libraries. The screenings were preceded by a student-led critique and discussion on Nov. 10 at Baker Center that focused on the food science highlighted in the film.
Everything we've been told about food and exercise for the past 30 years is dead wrong. FED UP is the film the food industry doesn't want you to see. From Katie Couric, Laurie David (Oscar winning producer of AN INCONVENIENT TRUTH) and director Stephanie Soechtig, FED UP will change the way you eat forever.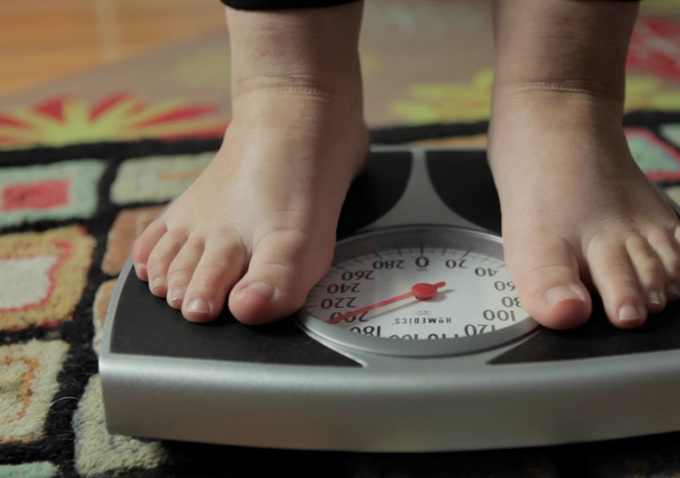 Fall Sustainability Series
With our partners at The Common Experience Project on Sustainability, the Athena participates in a sustainability series several times a year. We aim to highlight films that carry an environmental message and discuss the importance of protecting the planet.
In the fall of 2014, we showed MORE THAN HONEY, WATERMARK, THIN ICE, ON OUR OWN LAND, READY FOR HARVEST and CAFETERIA MAN.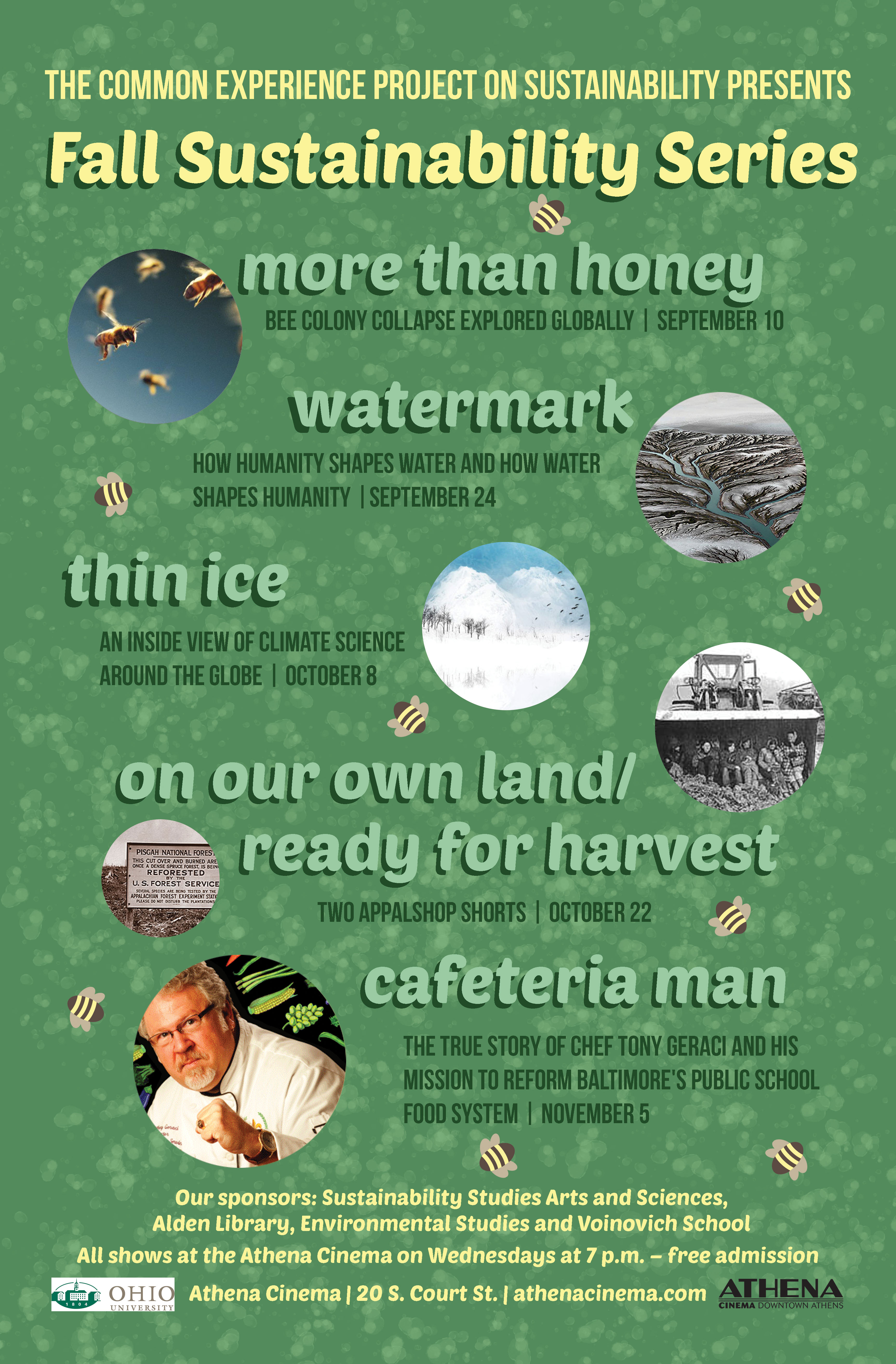 Science on Screen
The Athena Cinema's Science on Screen program is a series of events that pairs  feature films and documentaries with presentations by renown scientific experts and technological innovators. The Science on Screen events are fun and engaging and offer our dynamic speakers an unexpected jumping point to teach us about their field of expertise in a way that is accessible to a diverse audience.
Whether classic or quirky, these science/movie mash-ups are highly entertaining events. These events are a wonderful way to integrate film and science in a way that appeals to students, faculty and community members with a wide array of interests.
Science on Screen is a project of the Coolidge Corner Theater and is supported by the Alfred P. Sloan Foundation.
Click here to find out more about this educational series.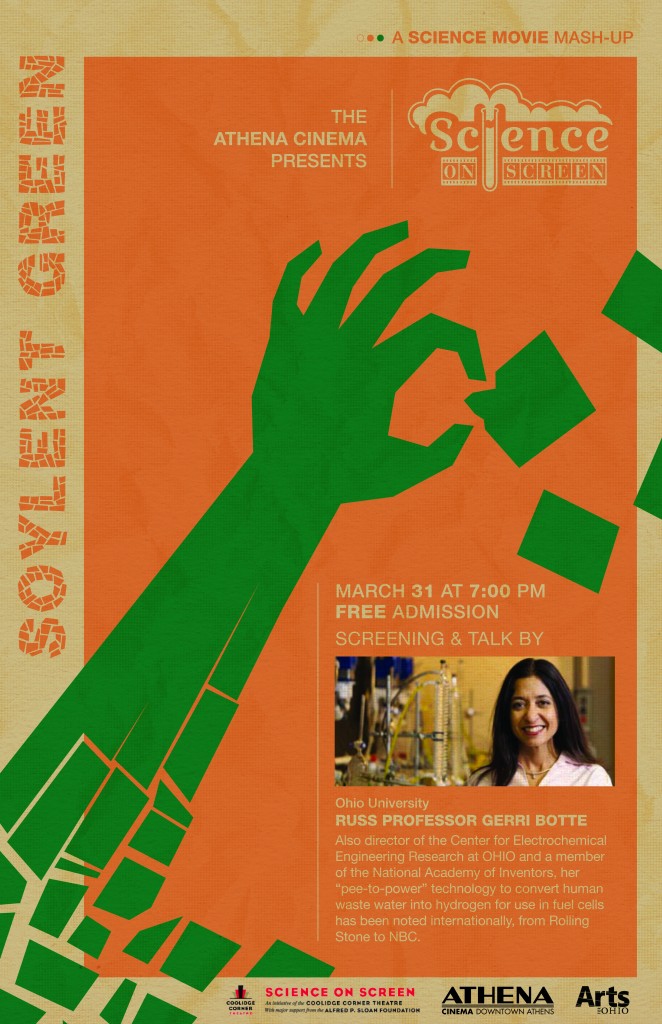 GMO OMG
OEFFA presented a free screening of the documentary OMG GMO, including a panel discussion with director Jeremy Seifert. Sponsored by Horizon Organic and Chipotle Mexican Grill with support from Rich Gardens Organic Farm, Green Edge Organic Gardens, Shagbark Seed & Mill, Snowville Creamery, and Pleasantview Farm.
GMO OMG explores the systematic corporate takeover and potential loss of humanity's most precious and ancient inheritance: seeds. Director Jeremy Seifert investigates how loss of seed diversity and corresponding laboratory assisted genetic alteration of food affects his young children, the health of our planet, and freedom of choice everywhere. GMO OMG follows one family's struggle to live and eat without participating in an unhealthy, unjust, and destructive food system. In GMO OMG, the encroaching darkness of unknown health and environmental risks, chemical toxins, and food monopoly meets with the light of a growing global movement to take back what we have lost. Has the global food system been irrevocably hijacked? Is there still time to reclaim its purity, protect biodiversity and save ourselves?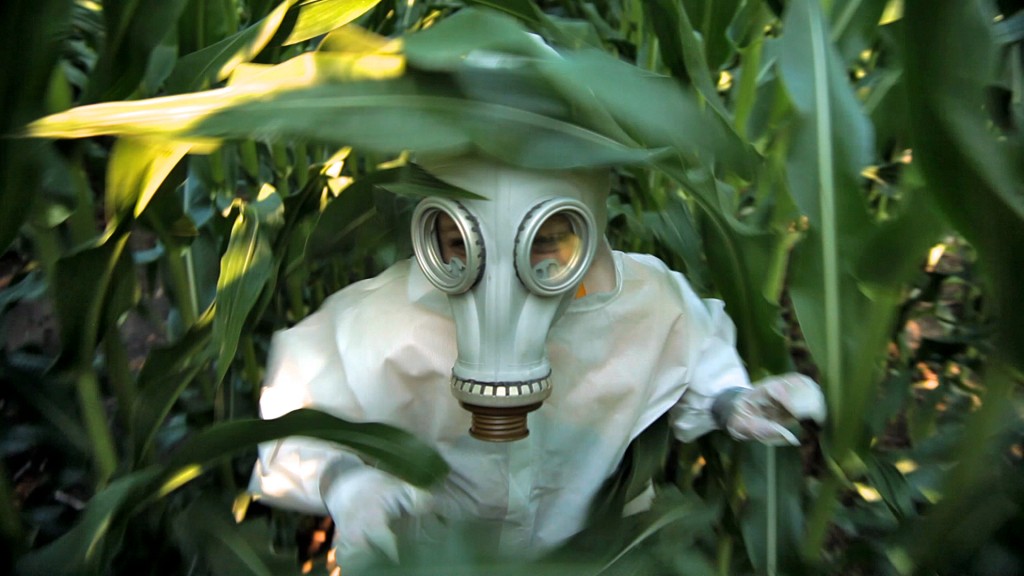 The New Black
THE NEW BLACK is a documentary that tells the story of how the African-American community is grappling with the gay rights issue in light of the recent gay marriage movement and the fight over civil rights. The film documents activists, families and clergy on both sides of the campaign to legalize gay marriage and examines homophobia in the black community's institutional pillar — the black church and reveals the Christian right wing's strategy of exploiting this phenomenon in order to pursue an anti-gay political agenda. THE NEW BLACK takes viewers into the pews and onto the streets and provides a seat at the kitchen table as it tells the story of the historic fight to win marriage equality in Maryland and charts the evolution of this divisive issue within the black community.
The Athena Cinema showed this film in November 2013.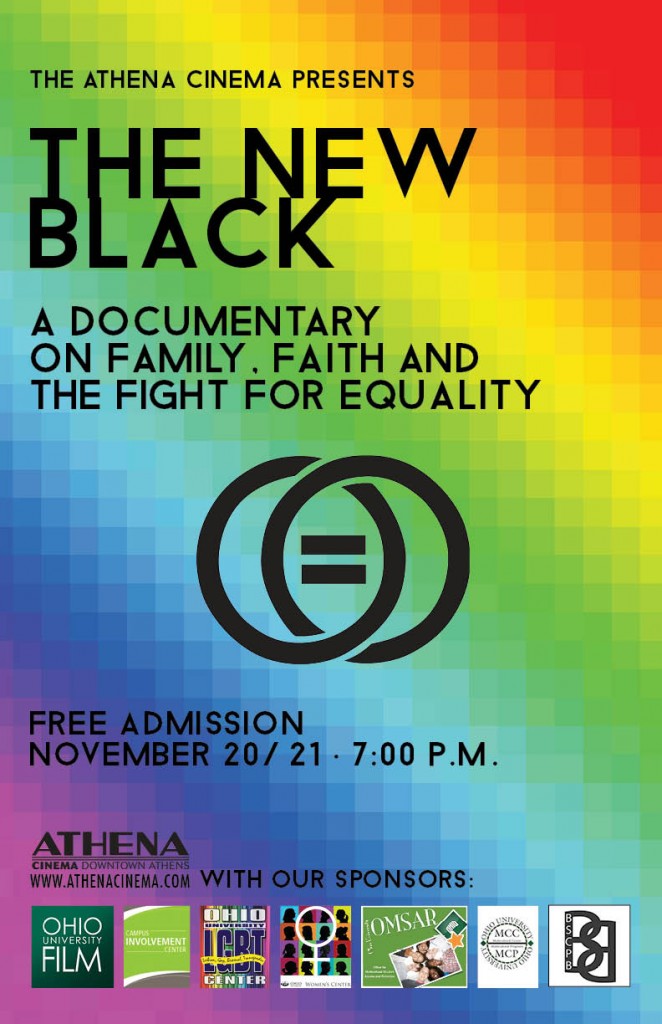 Bully
The Athena Cinema showed BULLY in the fall of 2012, with a follow-up panel discussion with counselors, a member of PFLAG and the director of the Appalachian Peace and Justice Network.
Over 13 million American kids are bullied each year, making it the most common form of violence experienced by young people in the nation. The documentary film BULLY, directed by Sundance and Emmy-award winning filmmaker, Lee Hirsch, brings human scale to this startling statistic, offering an intimate, unflinching look at how bullying has touched five kids and their families.