Watch Trailer Director: Justine Triet
Cast: Sandra Hüller, Swann Arlaud, Milo Machado-Graner
Awards: Palm d'Or -Cannes Film Festival 2023

In Anatomy of a Fall (French: Anatomie d'une chute), Sandra's husband Vincent is found bloody and dead in the snow after an apparent fall. Foul play is presumed, and the police have settled on Sandra as their main suspect. Making matters worse is the fact that the only witness to the crime is Sandra and Vincent's blind son Daniel. Sandra is forced to prove her innocence in a courtroom where the odds are stacked against her.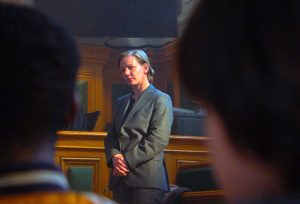 Justine Triet, who wrote and directed the film, won the Palm d'Or for Anatomie at the 2023 Cannes Film Festival, making her the third woman director to receive that honor in the festival's history. Additionally, critics have hailed the strong performance from lead actress Sandra Hüller, winner of numerous best acting awards in her home country of Germany.

Share this Film