Watching movies in the summer is a favorite pastime for kids and families looking for entertainment and hoping to escape the heat. A new series is bringing multiple family favorites to the big screen and offering a local, low cost entertainment option. In addition, all proceeds from the screenings will benefit area children's group, Big Brothers Big Sisters of Athens.
Starting July 6 and running through July 27, Ohio University's Athena Cinema of the College of Fine Arts and the Office of the EVP & Provost, and VP for Finance & Administration, are partnering with Athens area children's organizations to offer low cost entertainment and raise money for area children. The Athena has partnered with Athens County Children's Services, Kids on Campus, the Child Advocacy Center and Big Brothers Big Sisters.
The Athena Cinema will be showing afternoon screenings of popular family films every Saturday at 3 pm.  The first event on July 6th is a screening of the "Diary of A Wimpy Kid". Other titles include will include "Coraline" on July 13th, "Dolphin Tale" on July 20thth and Wes Anderson's "Fantastic Mr. Fox" on July 27th.
The screenings are one-time only events and there will be a limited number of tickets available. Free popcorn will be provided courtesy of Shagbark Seed and Mill and the Athena Cinema. The City of Athens has donated "splash passes", which are good for eight visits to the city pool will be raffled at each event. There will be additional raffles, vouchers to area businesses and other great giveaways at the events.
"Ohio University and the Athens community have worked together to make these events possible and thanks to the generosity of Ohio University, area children's organizations and area businesses like Rocky Boots and Shagbark Seed and Mill we are able to make this happen. It's great to see everyone working together to support the children's groups," says Athena Cinema's Managing Director, Alexandra Kamody.
To benefit Big Brothers Big Sisters, the price of admission to these screenings will be a suggested minimum donation of $2 per ticket. Kids on Campus groups will have the opportunity to screen the movies as part of their weekly summer activities. Tickets will be available one week before each scheduled screening during regular Athena lobby hours. The Athena Cinema summer lobby hours are Monday-Friday from 4:30pm-8pm and on Saturdays and Sundays from 2:30pm-8pm.  For more information, please visit www.athenacinema.com
The purpose of this initiative is to support area children's organizations while providing area families a low cost entertainment option.  Please come out and support our initiative and enjoy a movie with friends and family.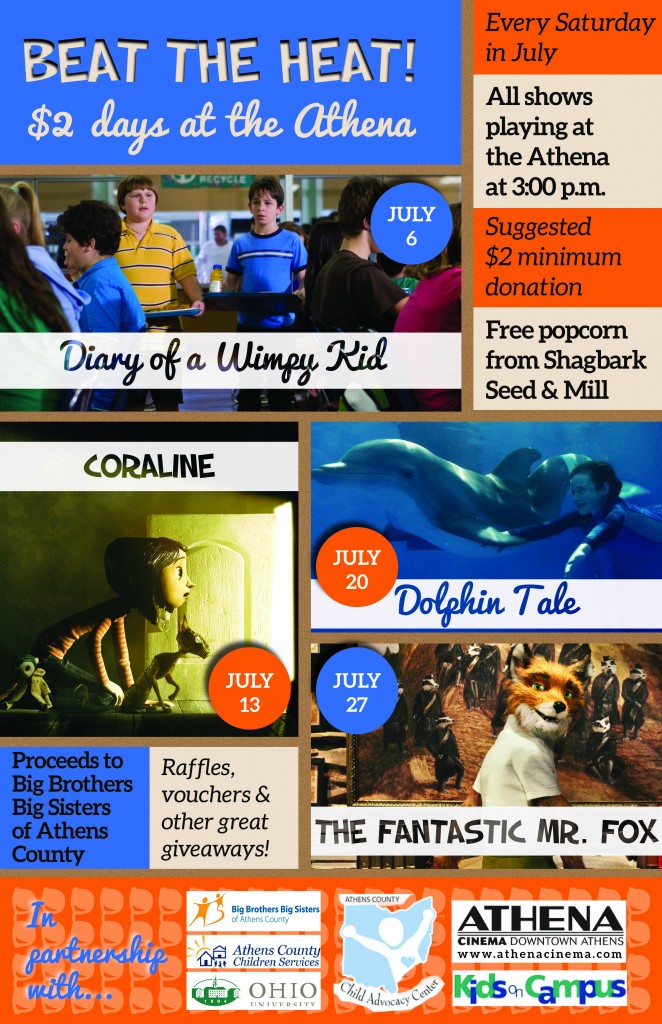 Share this Film
Click on Showtimes to Get Tickets Online