When should we arrive?
We will begin seating for each event at 8 p.m. The event will begin at about 9 p.m. or when it is dark enough.
We are welcoming patrons to stop by the Athena and purchase drinks curbside before heading to the parking garage, though this is not required. Since DORA is in effect, you can purchase alcoholic beverages from us and carry them to the parking garage. All other concessions will be available for purchase on the rooftop. Much like a baseball game, you will be able to order concessions and refills from your seat and have them delivered to you.
Do we need tickets?
Yes! Tickets are $8 for all Classics & Cocktails screenings. We will have staff checking tickets at the rooftop entrance. If you leave the rooftop, you will need to bring your ticket(s) with you for re-entry.
While we may have tickets to sell the night of the event, it is strongly encouraged that you reserve your tickets in advance in case of a sellout.
What will seating look like?
Chairs will be provided. If you wish to bring your own chair, we will have a designated space you will be assigned to. This helps our staff keep clear paths and organization when delivering concessions.
What should I bring?
It is easy to forget the temperature drops when the sun goes down. We encourage you to bring an extra layer.
Will there be restroom access?
Yes, the restrooms are located on the first floor of the parking garage.
Will concessions be available?
Yes! We will have concessions for purchase at the Athena before and during the event. We will also be utilizing an online ordering system and our staff will deliver to your seat. Please allow staff 10-15 minutes to bring your order, as they will be traveling back and forth from the rooftop to the theater.
Concessions include popcorn, soda, water bottles and candy.
What about alcohol? 
That's the highlight of the series, isn't it? We will be using DORA to continue to offer our themed cocktails as well as beer, wine and seltzers! You can pick up your DORA cup and cocktail curbside at the Athena on the way to the parking garage. We will also have our staff taking orders to refill alcoholic beverages.
Will there be a non-alcoholic option?
Yes! We will feature a mocktail for each event.
What will happen if it rains on the night of the event?
Each outdoor screening will have a backup date should the weather not cooperate. The Athena will communicate through social media, email, and this website should the decision be made to postpone an outdoor screening. You will not need to repurchase your tickets should the date move.
The rain date for each event is the following Sunday.
What about accessibility?
The parking garage has elevator access from each floor that leads directly to the roof. Accessible parking is available in the garage and on the streets in metered spots.
Where is parking located?
Parking is available in the Athens City Parking Garage levels 2 through 5 and is metered 24/7. The address for the parking garage is 15 E Washington Street. You will use the entrance on Washington Street, NOT College Street. The College Street entrance is only for permit holders.
Additionally, you may park on the streets of Court, Union, College, Washington and State. These spots are metered until 7 p.m. Street parking is free after 7 p.m.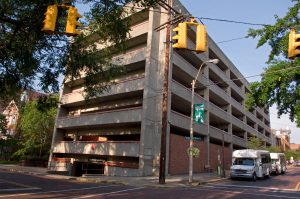 Share this Film