Watch Trailer Director: Roger Ross Williams
Cast: Gael Garcia Bernal, Roberta Colindrez, Bad Bunny

Set in the 1980's, Cassandro is a true-to-life dramatic account of Saúl Armendáriz, a gay man from El Paso, Texas who embarks on a career as a professional wrestler. Eventually, he opts to cross the border into Juárez where he becomes part of the "lucha libre" scene – Mexico's unique style of high-flying, no-holds-barred wrestling. When he meets new trainer Sabrina, she compels him to let his flamboyant flag fly by performing as an "exótico", a type of luchador known for wrestling in drag and adopting a sassy and undignified demeanor in the ring. Once Armendáriz fully embraces his new persona as Cassandro, his star begins to rise and he becomes a champion.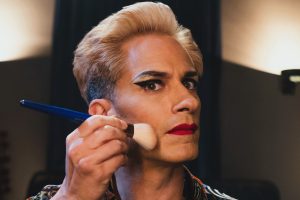 In his first departure from documentary filmmaking, Cassandro was written and directed by Roger Ross Williams, the first African-American director to win an Academy Award. This film stars Gael Garcia Bernal, Roberta Colindrez, and Bad Bunny.

Share this Film