Watch Trailer Director: Craig Gillespie
Cast: Paul Dano, Pete Davidson, Vincent D'Onofrio, Nick Offerman, America Georgina Ferrara

The "Game Stop short squeeze" of 2021 was one of the wildest financial rides in the modern history of the New York Stock Exchange: Never before had amateur traders been able to go head-to-head against the deep pockets of ultra-rich hedge funds to make (and, well, lose) a fortune in such a short timeframe. Dumb Money brings the drama, excitement, and pure bizarre-ness of this extraordinary event to the big screen — a veritable nerdy-David-vs-UHNWI-Goliath tale for the ages!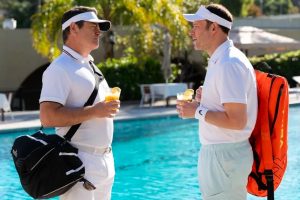 With an ensemble cast of all-star talent that includes Paul Dano as financial analyst Keith Gill, Seth Rogen as hedge-funder Gabe Plotkin, and Sebastian Stan as Robinhood App CEO Vlad Tenev, Dumb Money is based on the book The Anti-Social Network by Ben Mezrich and directed by Craig Gillespie (Lars and the Real Girl, Pam & Tommy, Mike).

Share this Film