Watch Trailer Director: Steven Spielberg

The Athena Cinema, in partnership with Athens County Children Services, is proud to present a screening of E.T. THE EXTRA-TERRESTRIAL on Saturday, August 12th at 3pm. Seating begins at 2:30pm at the Ridges Auditorium. Admission is a monetary donation to Kids on Campus.
The screening of E.T. THE EXTRA-TERRESTRIAL will take place at the Ridges Auditorium.
The address for The Ridges Auditorium is 135 Ridges Circle. It is building #223, linked here on the Campus Map.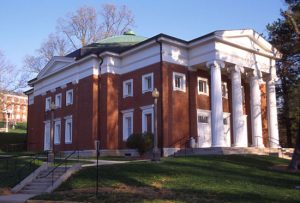 Parking is free on Saturday's in all PURPLE and DARK GREEN lots. Any space with a meter must be paid to park.
About the film
After a gentle alien becomes stranded on Earth, the being is discovered and befriended by a young boy named Elliott (Henry Thomas). Bringing the extraterrestrial into his suburban California house, Elliott introduces E.T., as the alien is dubbed, to his brother and his little sister, Gertie (Drew Barrymore), and the children decide to keep its existence a secret. Soon, however, E.T. falls ill, resulting in government intervention and a dire situation for both Elliott and the alien.
About Kids on Campus
Kids on Campus is a rural community-university partnership that empowers underserved, at-risk children and their families in the realization of their full potential through educational, nutritional, and recreational opportunities.
Share this Film