Taking place over eight weeks, from January 28th-March 25th, the Athena will be showing Alfred Hitchcock classics. Each film will be introduced by a College of Fine Arts student of Ohio University. From "Vertigo" dubbed the "Greatest Film of All Time" by the British Film Institute's Sight and Sound Magazine to the more obscure works, we are pleased to bring you this sampling from "the master of suspense". This comes at a great time for us, as we are pleased to be showing a biographical portrait of the master, starring Academy Award winners Helen Mirren and Anthony Hopkins. Come see "Hitchcock" and make it a double feature by staying for one of the classics. We are offering ticket packages in two increments:
4 PACK OF TICKETS TO HITCHCOCK RETROSPECTIVE: $20
8 PACK OF TICKETS TO HITCHCOCK RETROSPECTIVE: $35
Regular admission for individual tickets will be charged at the screenings.
SPECIAL OFFER, LIMITED TIME ONLY: From January 28th-February 7th patrons will receive a COMPLIMENTARY bonus 4 PACK OF TICKETS TO THE HITCHCOCK RETROSPECTIVE with any purchase of a Friends of the Athena Annual Membership.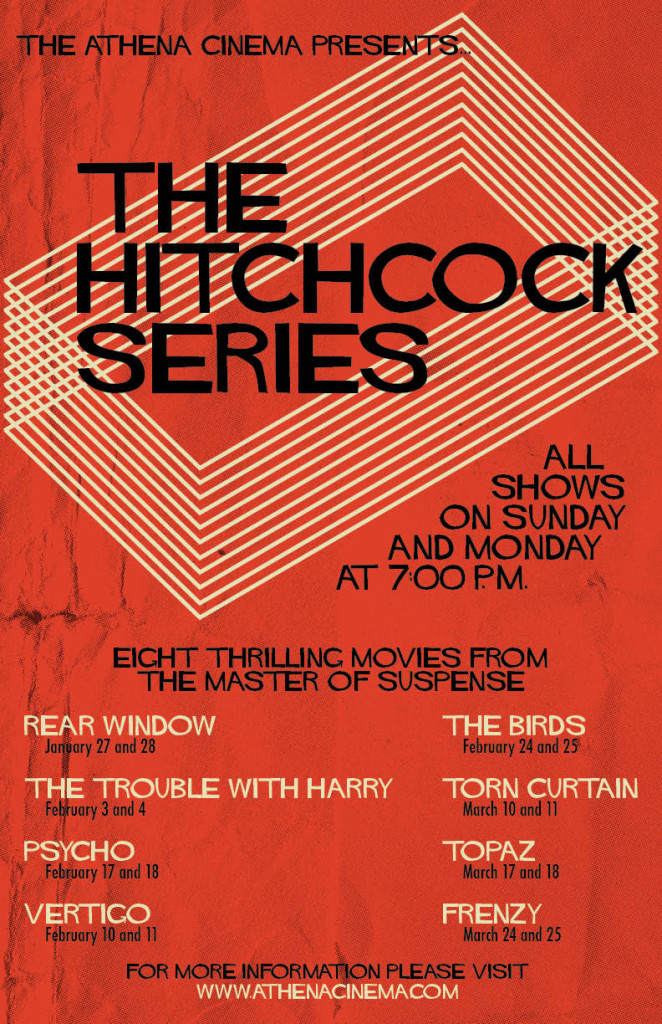 Share this Film
Click on Showtimes to Get Tickets Online