Watch Trailer Director: Michel Ocelot
Writer(s): Michel Ocelot

Sponsored by Ohio Brew Week, The Athena Cinema is proud to present a screening of KIRIKOU AND THE SORCERESS on Saturday, July 15th at 3pm. Seating begins at 2:30pm at the Ridges Auditorium. Admission is a monetary donation to the Andrew Jackson Davison Club.
About the film
The tiny Kirikou is born into an African village upon which a sorceress called Karaba has cast a terrible spell: the spring has dried up, the villagers are being blackmailed, the men of the village have either been kidnapped or have mysteriously disappeared. He wants to rid the village of the curse so he goes on a voyage to the Forbidden Mountain, where the Wise Man of the Mountain, who knows of Karaba and her secrets, awaits him. The film contains many instances of nudity that reflect the non-sexualized view of the human body in the West African culture depicted.
The screening of KIRIKOU AND THE SORCERESS will take place at the Ridges Auditorium.
The address for The Ridges Auditorium is 135 Ridges Circle. It is building #223, linked here on the Campus Map.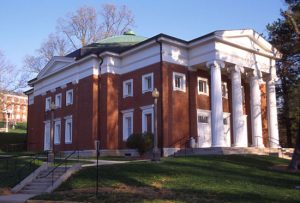 Parking is free on Saturday's in all PURPLE and DARK GREEN lots. Any space with a meter must be paid to park.
Share this Film