Watch Trailer Director: Bradley Cooper
Cast: Bradley Cooper, Carey Mulligan
Awards: Golden Lion (nom) - Venice Int'l Film Festival

Bradley Cooper returns to being on both sides of the camera with Maestro, a film that explores the complex relationship between the celebrated conductor-and-composer Leonard Bernstein and his wife Felicia. Bernstein, who never publicly acknowledged his homosexuality, was known to have had several affairs throughout his life with both men and women. Nevertheless, the couple stayed mostly committed to one another until Felicia's untimely death in the late-1970s from lung cancer.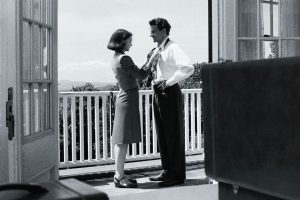 Cooper writes, directs, and stars as Bernstein, opposite Carey Mulligan who plays the role of his wife. Since its premiere in September of 2023, the film, shot in exquisite black-and-white, has been nominated for a Golden Lion Award at the Venice International Film Festival.

Share this Film