Watch Trailer Director: John Sayles
Cast: Chris Cooper, James Earl Jones, Mary McDonnell, Will Oldham

About the film
Filmed on location in the coal country of West Virginia, "Matewan" takes the audience inside the gritty world of labor union organizing during the early part of the 20th century. Inspired by true events that took place in "Bloody Mingo" County in 1920, John Sayles' critically-acclaimed film follows the efforts of union organizer Joe Kenehan (Chris Cooper) and scab "Few Clothes" Johnson (James Earl Jones) who join forces with the local mayor and police chief to push back against the bosses, hired thugs, and spies of the Stone Mountain Coal Company who threaten to break a strike initiated by the town's coal miners to petition the company for fair treatment, safe working conditions, and worker's rights.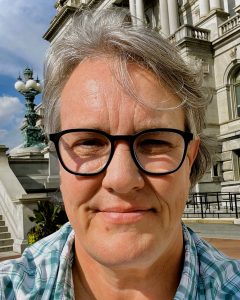 About the speaker
Christy Zempter is an Assistant Professor of Communication at Shawnee State University and a native Appalachian. Prior to the screening, she will briefly discuss the significance of the events represented in Matewan in the context of a regional tradition of organized labor and demands for economic justice that continue today.
About the series
Due to the resounding success of the series launch during 2022-2023, we are thrilled to present the 2nd annual From the Hills and Hollers: Appalachian Film Series for 2023-2024.
The series seeks to foster a deeper connection between the Athens city and university communities and the cultural legacy of the surrounding region through films that examine the many facets, both positive and negative, of life in Appalachia. This batch of films is, in large part, the product of filmmakers who have intimate knowledge of living in this environment and, as a result, are well-suited for representing the realities of Appalachia on the big screen.
Short introduction/lectures will provide context for the film and introduce the underlying issues represented in film and other media. All events in the series are presented with free admission.
This screening will take place at the Ridges Auditorium located at 135 Ridges Circle.
This series is sponsored by the College of Health Sciences and Professions, the Department of Sociology and Anthropology in the College of Arts and Sciences, OHIO Honors Program, Center for Campus and Community Engagement, Athens County Public Libraries, University Libraries, GO Local, University College, the Center for Law, Justice, and Culture, and the Ohio Arts Council.

Share this Film