Watch Trailer Director: Jimmy Chin, Elizabeth Chai Vasarhelyi
Cast: Annette Benning, Jodi Foster, Rhys Ifans

Nyad recounts the life of famed long-distance swimmer Diana Nyad who has spent a lifetime accomplishing incredible feats of athleticism, including an alleged successful attempt to swim from Cuba to Florida without a shark cage…at age 64!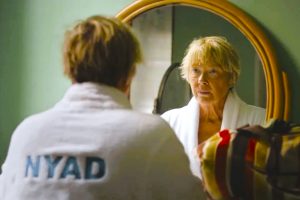 The movie stars Annette Benning as Nyad, with supporting roles filled by Jodi Foster and Rhys Ifans. Based on Nyad's own biography, the film is the latest offering from directors Jimmy Chin and Elizabeth Chai Vasarhelyi, the Husband-and-wife filmmaking duo responsible for the exquisite mountain-climbing film Free Solo.

Share this Film