Watch Trailer Director: Alexandra Dean
Writer(s): Alexandra Dean
Cast: Nino Amareno, Charles Amirkhanian, Mel Brooks, Diane Kruger
Awards: San Francisco Jewish Film Festival Audience Award Winner, Official Selection of the 2017 Tribeca Film Festival, Best of Fest Winner of Nantucket Film Festival

What do the most ravishingly beautiful actress of the 1930s and 40s and the inventor whose concepts were the basis of cell phone and bluetooth technology have in common? They are both Hedy Lamarr, the glamour icon whose ravishing visage was the inspiration for Snow White and Cat Woman and a technological trailblazer who perfected a radio system to throw Nazi torpedoes off course during WWII. Weaving interviews and clips with never-before-heard audio tapes of Hedy speaking on the record about her incredible life—from her beginnings as an Austrian Jewish emigre to her scandalous nude scene in the 1933 film Ecstasy to her glittering Hollywood life to her ground-breaking, but completely uncredited inventions to her latter years when she became a recluse, impoverished and almost forgotten—BOMBSHELL: THE HEDY LAMARR STORY brings to light the story of an unusual and accomplished woman, spurned as too beautiful to be smart, but a role model to this day.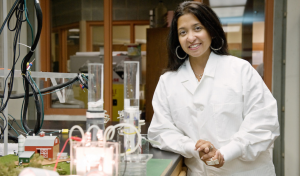 Preceding the film will be a presentation by Russ Professor of Chemical and Biomolecular Engineering, Dr. Gerri Botte. Gerardine (Gerri) Botte is a University Distinguished Professor, the founder and Director of Ohio University's Center for Electrochemical Engineering Research (CEER), and the founder and Director of the Consortium for Electrochemical Processes and Technology (CEProTECH) -an Industry University Cooperative Research Center. In addition to being a professor and a scientist, she is a prolific inventor, entrepreneur, and visionary. In 2014, she was named a Fellow of the Electrochemical Society for her contributions and innovation in electrochemical processes and engineering. She became a Chapter Fellow of the National Academy of Inventors in 2012. In 2010, she was named a Fellow of the World Technology Network for her contributions on the development of sustainable and environmental technologies. Dr. Botte has 171 publications including peer-reviewed journals, book chapters, 48 granted patents (in the US, Canada, Japan, China, and other countries) and 30 pending patent applications. Dr. Botte and members of her research group are focusing on developing solutions for some of the world's greatest challenges related to food, water, and energy. Example projects include: hydrogen production from ammonia, urea, biomass, and coal, synthesis of carbon nanotubes and graphene, water remediation and disinfection, selective catalytic reduction, ammonia synthesis, electrochemical conversion of CO2 to high value products, novel electrolytes for thermal batteries, and advanced electrowinning. Dr. Botte is also an entrepreneur, she has been involved in the commercialization of technologies and has founded and co-founded companies. She received her Ph.D. in 2000 and M.E. in 1998, both in Chemical Engineering, from the University of South Carolina. Prior to graduate school, Dr. Botte worked as a process engineer in a petrochemical plant; she was involved in the production of fertilizers and polymers. Dr. Botte received her B.S. in Chemical Engineering from Universidad de Carabobo (Venezuela) in 1994. She can be reached at botte@ohio.edu
Science on Screen® is an initiative of the Coolidge Corner Theatre, with major support from the Alfred P. Sloan Foundation. The Science on Screen program pairs films with a short talk with a scientist or technology expert. The free Science on Screen events are fun and engaging, offering dynamic speakers an unexpected jumping point to teach their field of expertise in a way that is accessible to a diverse audience.
Free admission is provided by Arts for OHIO.
This event is also sponsored by the Kennedy Lecture Series as part of the Athena Cinema's Women Pioneer Series.
Share this Film