Viewing:
February 29,2024
Watch Trailer Director: Michael Schultz
Cast: Taimak, Vanity, Julius Carry

About the film
Leroy "Bruce Leeroy" Green embarks on a quest through the gritty streets of New York to complete his training and gain the level of martial arts mastery that will make him a true black belt like his hero Bruce Lee. When Sho'nuff, the self-proclaimed "Shogun of Harlem", catches wind of Leroy's abilities, he challenges the youth to a fight to see who will glow brightest as the baddest butt-kicker in town.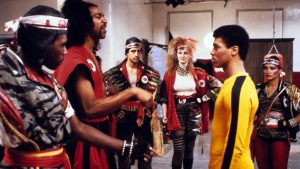 Released in 1985, this film broke with tradition by featuring a mostly-black cast in a kung-fu action movie. Additionally, it was produced by Motown's head-honcho Barry Gordy and, as a result, boasts a soundtrack that includes the smooth sounds of artists like Debarge, Smokey Robinson, The Temptations, Rockwell, and Stevie Wonder. As much an action-packed martial arts extravaganza as it is a love letter to all things '80s, The Last Dragon is a cult classic that you surely won't want to miss!
Each show will feature added content such as trivia, introductions, raffles, themed drinks and more!
Seating and pre-show activities at 7:00 p.m., film start time 7:30 p.m.
About the series
The mission of this film series is to synergize education and entertainment, creating a unique experience for our community. At the heart of the Heroes in Color film series lies a commitment to celebrate voices and stories of people of color that have traditionally been marginalized within popular culture. By showcasing a kaleidoscope of cinematic heroes who reflect the spectrum of human stories, backgrounds, and aspirations, we strive to redefine heroism, proving that anyone, regardless of their origin, can rise to greatness.
Sponsored by Ohio University Division of Diversity & Inclusion, Division of Student Affairs, Office of Global Affairs, Ohio Men of Excellence Network and Ohio Arts Council

Share this Film
Click on Showtimes to Get Tickets Online