Click for more info on each of our upcoming film classics!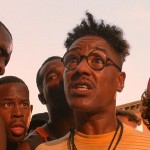 DO THE RIGHT THING | Oct. 24
On the hottest day of the year on a street in the Bedford-Stuyvesant section of Brooklyn, everyone's hate and bigotry smolders and builds until it explodes into violence. Directed by Spike Lee.
The story of a forbidden and secretive relationship between two cowboys and their lives over the years. Directed by Ang Lee, starring Jake Gyllenhaal and Heath Ledger.
A silent movie star meets a young dancer, but the arrival of talking pictures sends their careers in opposite directions. Starring  Jean Dujardin, Bérénice Bejo and John Goodman.
Share this Film