Watch Trailer Director: Brett Morgen

The Athena is excited to announce a one-night only, encore Science on Screen event. Join us for a screening of Jane and a talk by Dr. Nancy Stevens on Thursday, March 8th at 7PM! Please pick up your tickets in advance and be at the theater at start time to ensure a seat. You can review our ticketing policy at:
Drawing from over 100 hours of never-before-seen footage that has been tucked away in the National Geographic archives for over 50 years, award-winning director Brett Morgen tells the story of JANE, a woman whose chimpanzee research challenged the male-dominated scientific consensus of her time and revolutionized our understanding of the natural world. Set to a rich orchestral score from legendary composer Philip Glass, the film offers an unprecedented, intimate portrait of Jane Goodall — a trailblazer who defied the odds to become one of the world's most admired conservationists.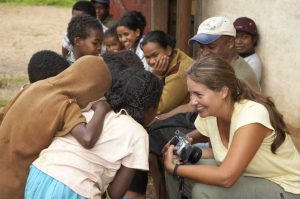 Preceding the film will be a presentation by Ohio University Presidential Research Scholar & Professor in the Department of Biomedical Sciences, Nancy Stevens, Ph.D.
Dr. Stevens' research explores extinction dynamics and interactions between animals and environments through time. Her fossil discoveries include the oldest fossil ape, and has studied critically-endangered primates in Uganda, Madagascar and Vietnam.
Science on Screen® is an initiative of the Coolidge Corner Theatre, with major support from the Alfred P. Sloan Foundation. The Science on Screen program pairs films with a short talk with a scientist or technology expert. The free Science on Screen events are fun and engaging, offering dynamic speakers an unexpected jumping point to teach their field of expertise in a way that is accessible to a diverse audience.
Free admission is provided by Arts for OHIO.
This event is also sponsored by the Kennedy Lecture Series as part of the Athena Cinema's Women Pioneer Series.
Share this Film