OUTDOOR EVENTS AT THE RIDGES' BALLFIELD
Click below for information on each event in the series:
June 5th – BATMAN with Joe Johnson, Assistant Professor of Vertebrate Biology
June 24nd – THEY LIVE with Zach Meisel, Associate Professor of Physics and Astronomy & Director of the Edwards Accelerator Laboratory
Third Program in July TBA
RAIN DATE NOTICE: Tickets are non refundable however we have planned alternate "rain" dates for each event. In the event of inclement weather, we will announce the date change on our website and all social media the morning of the event.
See "What will happen if it rains on the night of the event?" below for more details.
FAQ PAGE
Where is parking located?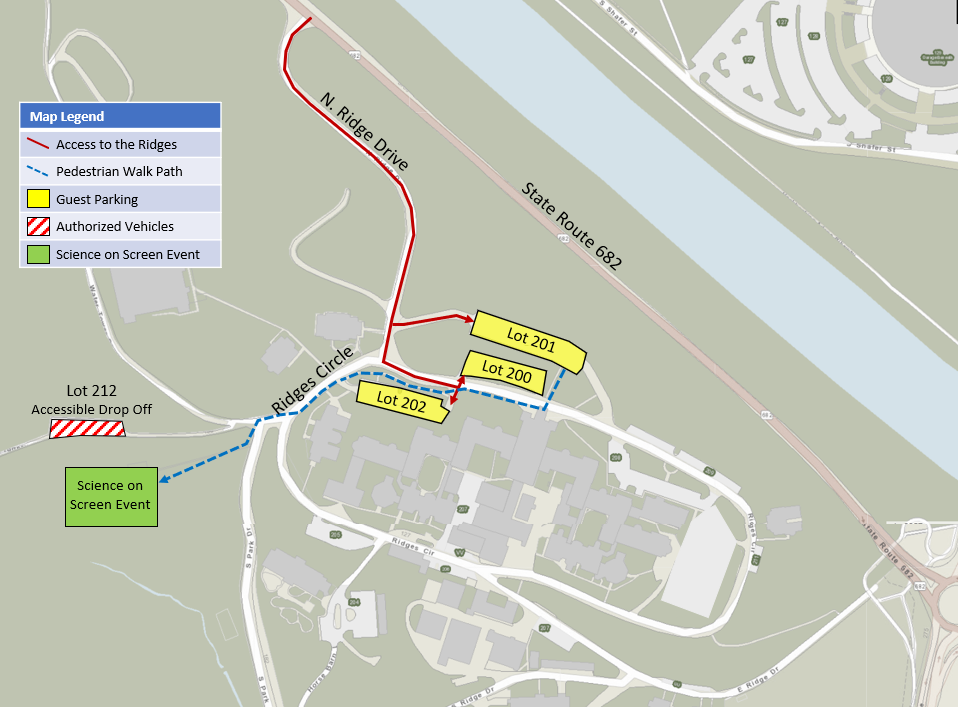 Parking is available in university lots 202, 200, and 201, (highlighted in yellow above), which are open to visitors after 5 p.m. When you enter using South Park Drive, you will pull around past the screening area on your left to reach space for parking. The screening area will be only a short walk from the lot.
When should we arrive?
We will begin seating on the field for each event at 8 p.m. The event will begin at 8:30 p.m.
What will seating look like?
Folding chairs and blankets! Seating will not be provided and it is up to patrons to bring their own blankets and chairs to the space if they do not wish to sit on the grass. The field is mostly flat with some hillside towards the back, near the road.
*In addition to chairs and blankets, remember to bring extra layers for when it gets chilly late at night!*
Will there be restroom access?
There will be limited restroom access at the screening site, however guests will have access to the Putt People First Miniature Golf Course restrooms, located within walking distance of the site.
Are masks required? (UPDATED)
Following Ohio University public health protocol, individuals will not be required to wear face coverings outdoors. Per CDC guidance, we strongly encourage unvaccinated individuals wear face coverings and maintain physical distance from other unvaccinated individuals, even when outdoors. Our staff will adhere to the standards of the University's COVID Safety Protocol.
Do we need tickets?
Yes! Tickets must be purchased in advance. When you arrive at the screening area, an Athena employee will ask for the name of the cardholder who purchased your tickets to validate entry. If you purchase concessions online ahead of time, you can pick up your concessions at this time.
While we may have tickets to sell the night of the event, it is strongly encouraged that you reserve your tickets in advance in case of a sellout.
Will concessions be available?
We will have some concessions, including soda, popcorn, and candy in limited supply at the event, which can be purchased with cash. Patrons are encouraged to pre-order their concessions online and retrieve them when they are checked for tickets. No outside concessions permitted.
What will happen if it rains on the night of the event?
Each outdoor screening will have a backup date should the weather not cooperate. The Athena will communicate through social media, email, and this website should the decision be made to postpone an outdoor screening. You will not need to repurchase your tickets or concessions should the date move. All orders will be honored on the night of the screening.
Backup dates are planned for the following dates:
The BATMAN showing scheduled for June 3rd has already been moved to its rain date of Saturday, June 5th
June 24th showing of THEY LIVE – Saturday, June 26th if necessary
Third Program in July TBA
What about accessibility?
We will have limited availability in a small parking lot closer to the site, reserved for those with accessibility needs. Please note that this outdoor site does feature rough, uneven terrain. Please contact us ahead of time so we can accommodate your needs at athenacinema@ohio.edu.
Share this Film