Watch Trailer Director: Barry Sonnenfeld
Writer(s): Larry Wilson, Caroline Thompson, Paul Rudnick
Cast: Anjelica Huston, Raul Julia, Christopher Lloyd

Bring the little ones, costumes and all to this year's AUBA Uptown Trick-or-Treat Night movie!
The 1991 Addams Family revisits everyone's favorite freaky family with a scary-good cast and trademark one-liners that will have you howling. Snap your fingers and come along with Morticia, Gomez, Uncle Fester, Wednesday, Pugsly, Thing, Lurch, and the rest for a ghoulishly good time this Halloween!
Free Admission sponsored by the Ohio University Credit Union!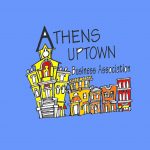 Share this Film