Click on individual titles for more info!
Starting November 26th and running through December 17th, Ohio University's Athena Cinema will be showing afternoon screenings of popular holiday family films every Saturday at 1:00 and 3:00. An additional showing of Scrooged will be held on Saturday, December 10th at 7:00 and 9:00.
The price of admission will be a minimum donation of one canned or non perishable food good per ticket. The food items will be donated to Athens city food pantries and other hunger relief programs. Tickets will be available one week before each scheduled screening. Limit of 5 tickets per person.
Jack Skellington, king of Halloween Town, discovers Christmas Town, but doesn't quite understand the concept.
ELF | Dec. 3
After inadvertently wreaking havoc on the elf community due to his ungainly size, a man raised as an elf at the North Pole is sent to the U.S. in search of his true identity.
  .
The Muppet characters tell their version of the classic tale of an old and bitter miser's redemption on Christmas Eve.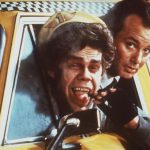 A selfish, cynical T.V. executive played by Bill Murray is haunted by three spirits bearing lessons on Christmas Eve.
*A special night showing for the grown-ups. Leave the kids at home and enjoy a comedy classic!*
When a nice old man who claims to be Santa Claus is institutionalized as insane, a young lawyer decides to defend him by arguing in court that he is the real thing.
Share this Film